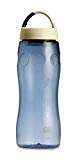 All Time Cresta Fruit Infuser Polycarbonate Water Bottle, 750ml, Blue
About Product :-
Hygienic bottle: The bottle is made of 100% food grade material.
Freezer safe: These bottles are compatible with refrigerator & not being curvy the bottle occupies less space. Looks pretty in the fridge or on the table top.
100% Leak Proof
Break Resistant
Dishwasher Safe
Ergonomic Grip
International Design
Trendy Colour
Easy to clean.
99% Safe is Meaningless; Safety has to be 100%, All Time! Safer, smarter, superior therefore the All Time Best.
More offers from Amazon India