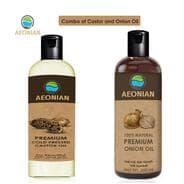 AEONIAN Onion Oil and Cold Pressed Castor Hair Oil Combo Pack(200 ml + 200 ml) for Men and Women
About Product :-
Helps in the reduction of hair fall
For longer, thicker brows: Apply several drops of oil before bed to your eyebrows coating thoroughly by brushing in both directions.
NATURAL MOISTURIZER ; Castor oil softens and hydrates dry skin.
SHINE - Onions lends a healthy shine to hair, which can become permanent when used regularly.
Improves the circulation of blood ; nourishes hair follicles and restores nutrients.
More offers from Amazon India