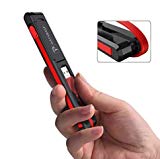 A2S2 3 in 1 Short USB Charging Cable Compatible for iPhone 8 Pin, Micro & Type C, Short Charging Cable Hidden USB Data Line for Smart Phone (Black Box and Red Cable)
About Product :-
TANGLE FREE ALWAYS - This 3 in 1 gun's magazine designed box give you a tangle clutter free wire experience always . You can put it anywhere and take out instantly with confidence without interfering with earphones or other stuffs kept with it unlike other 3 in 1 cables .
PORTABLE DAMAGE FREE INTACT DESIGN - Slide in this clever design box in your laptop bag or your pocket with mobile without worrying its cable's metal damaging any of your device as all the cables are intact in their own socket .
AMAZING LENGTH - This magic box which is around 5.5 inches when compact opens up a usb cable of 8.2 inches in length , its case adds around 5.5 inches more and after that the lightning or micro usb charging cable gives you an additional 4.7 inches in length to you mobile. So in total it gives 18.7 inches in length from power source to your mobile . Please refer image for more details .
3 in1 charging cords, Compatible For IPhone, Type C & Micro charging Type C Devices and micro charging cords can only be used alternatively.
Black Box And Red Cable, Portable magic bar design Foldable USB cable design, compact and fashionable, foldable stand for phones.
More offers from Amazon India