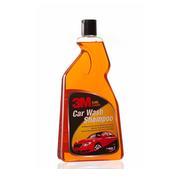 3M IA260166409 Car care car wash Shampoo (1L)
About Product :-
PH Balanced, Easy Rinse Off Rich Foam Formula
Removes Tough Dirt & Road Grime from your Car or Bike
Safe on Paint & Does Not Affect the Wax on Your Car's Surface
Extremely Effective Even with Hard Water from Borewells or Tankers
How to Use: Try to wash your vehicle under the shade always. Mix 1 part of shampoo in 3 parts of water. Wet the surface with water and apply the shampoo solution. If the dirt is too tough, just pour some undiluted shampoo on it. For best results, scrub with Meguiar's Wash Mitt. Wash off shampoo and dry using 3M Microfiber Cloth.
Free Shipping for Amazon Prime Members,
Subscribe
More offers from Amazon India