JIO has become the essential part of everyone's life and from the digital revolution it has done a great start to the life of everyone who was seeking to get a good data plan that too in budget. Right from last one year Jio is providing the Indian audience free internet (unlimited for some months) and this is perfectly anything that one can demand.
Hence the Jio Free Internet Offer or Jio welcome offer or jio happy new year offer is about to end with unhappy face of free data users but Jio is all set to launch its plans for grabbing the same number of users in a long term as you can get All Jio Recharge Offers. Airtel, Vodafone, Idea and other operator who are providing around 1 GB for a month in the same price Jio is launching 30 GB Data for the same time period.
What Are The Jio Plans ?
Jio is on to provide its users regular benefit of same plan they are going through now free but After April 2017 Jio services and data plans will rechargeable for this Jio has decided to Launch Jio Prime Membership.
In which users have to pay Rs. 99 till 31st march 2017 to get Jio Prime Membership after that He has to recharge up the Jio Plan of Rs. 303 to get the same benefits every month.
How To Activate Jio Plan ?
To activate your free Jio Calls and Unlimited Data you first have to recharge your Jio Number with Rs. 99 by taking the Jio Prime Membership you will be eligible to get 1GB Per day Data and free calling for a month in Rs. 303.You can get Jio Prime Membership only till 31st march,2017.
Why I Should Activate The Jio Plans ?
To enjoy the Great 4G speed and free unlimited calling you must activate your Jio Plan and Jio is also offering free benefits of apps worth Rs. 10000 for every Jio prime users which will enable Jio users to access free movie songs and many content as per the app.
When I Can Recharge Up My Jio SIM Plan ?
For Jio Prime membership you need to recharge for Rs. 99 till 31st march, 2017 and you can recharge up every month for Rs. 303 and get 1 GB data every month and free unlimited calls that are attach with prime membership.
How to Increase Jio internet speed in your 4G Device ?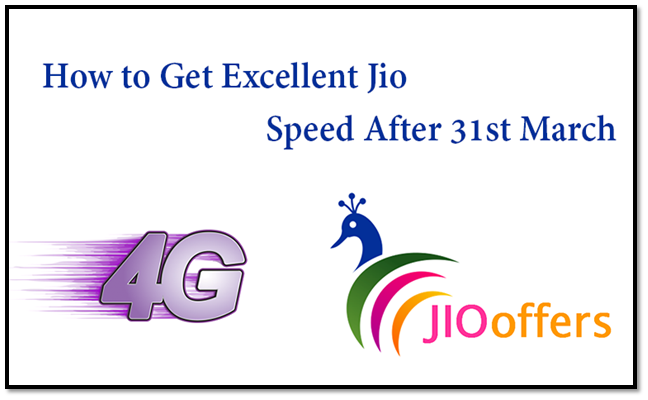 – First visit setting option on your phone
– Then visit the Mobile Networks option from settings
– Then click on access point name of your reliance Jio Sim
– You need to select the sim slot of Jio Sim
– Select Menu which is available at top right corner and choose new APN then click Save
Setting the APN Network to increase jio 4g speed
APN – jionet
APN Type – Default
Proxy – Not Set
Port – Not Set
Username – Not Set
Password – Not Set
Server – Google
MMSC – Not Set
MMS proxy – Not Set
MMS port – Not Set
MCC – 405
MNC – 857, 863 or 874
Authentication type – Not Set
APN Protocol – IPv4/IPv6
Doing this manual setting you can increase jio speed. However if you are not able to do this and set right setting or facing any issue please reset your device for default setting.
What Are Some Tricks Or Jio Discount Offers?
You can opt for many ways to get the jio prime membership which is available in Rs. 99 and later on Rs. 303 recharge every month. There are some websites which can help you get the All Jio Offer with a Cash back.
Paytm Jio Recharge Offers –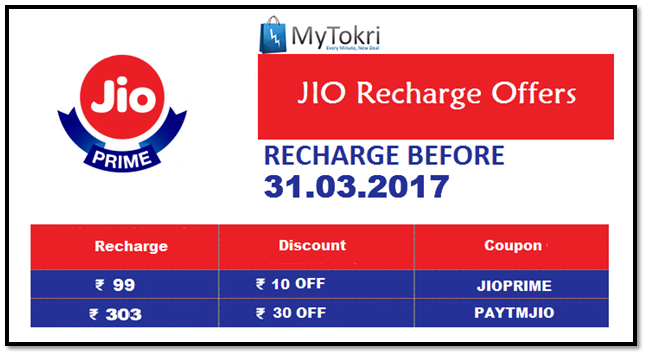 Paytm is on with mindblowing Jio recharge offers where you can get it like this
#JIO #Recharge #Offers:
Offer on Rs 99 recharge
Pay rs 99 and get rs 10 cashback from Paytm.
Coupon Code – JIOPRIME
Offer on Rs 303 recharge
Get Rs 30 OFF on Jio rs.303 Recharge from#Paytm.
Coupon Code – PAYTMJIO
For More Detail #Visit – //bit.ly/JioRechargeOffers
Offers only for #jiouser, share feel free with your #friends.
Check On Facebook – //www.facebook.com/mytokri/photos/a.449471195101291.95729.449465241768553/1242878292427240/?type=3&theater
Mobikwik Jio Offers –
Get Mobikwik is also taking the lead through the Mobikwik Jio prime offers where mobikwik is offering Rs. 20 cashback on recharge of Rs. 99 and Further more plans will be added for Rs. 303 jio plans. Users will get cashback of Rs. In the form of Supercash wallet newly started by Mobikwik.
Jio Money Offer –



Reliance Jio is also offering its customer the best offer to grab Cash back on getting jio Prime membership in a cheaper way. When you recharge for Jio Prime membership i.e. Rs. 99 you will be eligible to get 40% cashback on next recharge from Jio prime which can be of Rs. 303.
Get the amazing Jio Offer every time on your mobile using MyTokri App. Download the app now for every latest offer and best deals.
Jio Recharge Offers: All You Need To Know About JIO Prime
Follow Us on Google +
Comments
comments