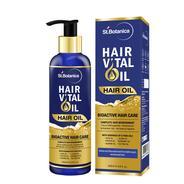 St.Botanica Hair Vital Bioactive Oil With Almond, Jojoba, Rosemary, Olive, Castor, Tea Tree Oil - 200ml
About Product :-
Contains Natural and Pure Oils - ColdPressed Organic Extra Virgin Olive Oil, ColdPressed Castor Oil, ColdPressed Sweet Almond Oil, ColdPressed Golden Virgin Jojoba Oil, Rosemary Oil, Tea Tree Oil.
Hair Vital Natural and Pure Oils for Several Benefits - 1) Reduces hair fall 2) Reduces hair breakage 3) Reduces dandruff 4) Improves hair growth 5) Gives life to damaged hair 6) Resolves scalp dryness 7) Improves blood circulation to the hair follicles.
Olive oil, in combination with a few other ingredients, can work wonders to keep your hair healthy. The ricinoleic acid present in castor oil improves blood circulation to your scalp.
Almond oil nourishes and strengthens your hair, and is optimal for treating hair loss and damaged hair. Rosemary has been used for centuries to not only stimulate hair growth but also delay graying.
Jojoba oil acts as a moisturizer for dry or damaged hair. The antibacterial and antifungal properties of the Tea Tree oil fight any kind of scalp infections, which can contribute to hair loss and other issues.
Free Shipping for Amazon Prime Members,
Subscribe
More offers from Amazon India