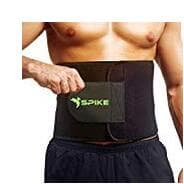 Spike Sweat Slim Belt for Fat Loss, Weight Loss and Tummy Trimming Exercise for Both Men and Women (Black)
About Product :-
PREMIUM SWEAT SLIM BELT - Each Spike sweat slim belt is designed with superior craftsmanship to increase body temperature in the abdominal area, which helps in fat loss, weight loss, tummy trimming Exercise and the improved burning of calories during exercise.
ENHANCED WEIGHT LOSS WRAP- Increased body heat helps to trim your belly fat and removing excess sweat water weight during exercise while the lightweight material prevents heat loss. Designed for Weight loss fitness alongside your collection of workout equipment.
MOISTURE REPELLING NEOPRENE MATERIAL - Special ANTI SLIP flex design to repel moisture and stress ensuring the prevention of bacteria build up and eliminating unwanted odors common with lower quality variations.
ONE SIZE FITS ALL - This premium grade latex-free neoprene spike sweat slim ab belt can fit up to 45 inches (115 cm).
INCREASED DURABILITY: Spike Sweat Slim Belt can be stressed up to 50 inches.
More offers from Amazon India