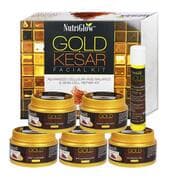 NutriGlow Gold Kesar Facial Kit Instant Radiance Shine & Youthful Glow Facial Kit 250 Gm
About Product :-
This Facial Kit Contains:1)Deep Cleanser 50 gm 2) Exfloating scrub 50 gm 3)Nourishing Gel 50 gm 4)Whitening Cream 50 gm 5)Mask Pack 50 gm - Serum:10-ML
BENEFITS OF GOLD ON SKIN: As we recollect history, it was rumored that one of the beauty regimes that Cleopatra followed was the use of gold. Cleopatra used a gold mask every night to enhance her complexion and keep her skin youthful, glowing and beautiful.Using gold for skin care has become popular nowadays. The ions present in gold help in stimulating the cells, nerves, and veins in your body. This leads to improved blood circulation.
A UNIQUE BLEND OF CLINICALLY PROVEN BIOACTIVES - Exotic saffron in these beauty products contains vitamins and antioxidants which lighten your skin and improve its complexion. This ingredient is also loved for its anti-inflammatory and antifungal properties.
ALL THAT GLITTERS - Gold ions present in these products stimulate skin cells to improve the circulation of blood. This in turn aids in the good health of your skin.
More offers from Amazon India