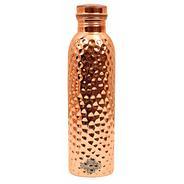 IndianArtVilla Hammered Thermos Design Copper Bottle, Travelling Purpose, Ayurveda Healing, 800 ML
About Product :-
Copper Hammered Leak Proof Bottle 800 ML, Material : Copper, Color : Copper, Weight (Gram): 255, Volume (ML): 800, Height (Inch): 8, Width (Inch): 2.5
HEALTHY LIFESTYLE: Now easy and healthy way of living is much easier than expected as genuine Copper kills bacteria and is proved to be a remedy for weight, skin and ageing Problems
ARTISAN CRAFTED Handmade metal ware is made by skilled craftsmen in India.
Comes with INDIAN ART VILLA How to use, Care instruction Booklet, Copper Cleaning Powder and INDIAN ART VILLA genuine packaging
DECLARATION - Buy Original INDIAN ART VILLA products from the seller "Indian Art Villa". India Art Villa is a Registered Brand & Does not Authorize any other seller to sell their products under their Name. Indian Art Villa does not provide any Quality assurance of FAKE products bought from other sellers.
Free Shipping
More offers from Amazon India