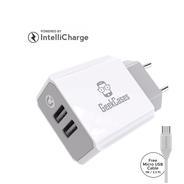 GeekCases 2 USB Ports / 2.1A Wall Charger Adapter
About Product :-
[with Micro USB Cable / 2 USB Ports with 2.1A/11W Smart Charge with Smart LED] : Dual USB Ports with Smart LED with 5V / 2.1A Charging that has universal compatibility, Auto-Balance ensures equi power distribution if there are 2 devices plugged-in, subject to a maximum of 2.1A combined output.
[Fail Safe Features / Flame Retardant ABS for enhanced Safety] : Advanced circuit design, comes equipped with 1.) Over voltage Protection 2.) Short-circuit Protection 3.) Over Charge Protection 4.) High Temperature Protection. The charges is made from high grade Flame Retardant ABS as an additional safety feature.
[IntelliCharge for Adaptive (Auto-ID) Charging] : Automatic device recognition for the optimum power input that balances between fast charging, stable charging and a longer battery life on the phone.
Free Shipping
More offers from Amazon India