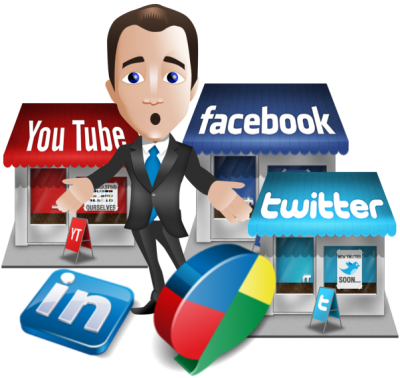 Social Media is the most common Word among youth. Social media is boosting its wings day by day, any scandal, any news anything if it's on social media then it's viral among all. Social media is these days helping all in negative and positive sense too. Whether it's a crime case and you have to fight for justice or whether you want to expose someone social media can do disaster these days. Everybody is using social media sites without any age boundation. Social media is the only platform where people of all caste and creeds come along. Social media has a bridged the gap between all; irrespective of backgrounds people are helping each other on social media.
Role of Social Media such as Facebook, Twitter, Gmail, Instagram, etc. in these sites where people are making friends and fighting for justice and some are busy is busy in negative aspects there is a another world or you can say platform also. People are also taking advantages of these Social Media sites for exploring their business. Ecommerce is growing day by day with the help of these social media websites.
Image Source : creative-jar
"Social media is playing a very crucial role in E-Commerce; the deals which are updated by the ecommerce websites are placed on this website to attract people. On Facebook there are approx 1.19 Billion users, twitter have 300 Million users, 236 Million, etc. which is very vast in real life, there are around 2.13 Billion users on social media. If you are advertising on these social media websites then you are reaching to approx 90% of population across the world. So according to these Statistics and to our real life every 3rd person is buying something from E-commerce through these Social Sites." So according to this statistics we got to know the importance and scope of Social Media, but few merchants are into E-commerce but not connected to social media like Facebook, Twitter, Instagram etc. These are the biggest platform to target youth users. A big part of buyers use these social media platform, for their choices.
Make connections with people on social media, socialize your product then only people will take interest in your products and services, your brand name doesn't only exist you also have to be present there. You need to listen to the people and need to interact with them by understanding their views, concepts and reasons.
Approximately 70% increase in marketing through social media is expected in the end of 2015, this percentage includes all the products available in the market.
Increase Your Visibility
You can use your social media presence to update your customer what you are doing. And when you are doing great and interesting things the viewers of your social media marketing will share it with their friends and family, who may also be interested in the same. The more followers you have in the more you will gain the benefit of social media.
Through social media merchants can advertise more and reach in every part of the world, the specials of offering will get the special promotions.
Direct Involvement with User
Involvement of customer is very important, if you are using a social media platform to advertise your products then you can give your customers a platform to revert back, about their choices their, favorite brands, latest trends etc. after hearing all this you may try to match their needs. When you will get what exactly your customer's desire then you can please them too. And by pleasing one customer you can get recommendations by him.
One should join the shopping forums so that they will get updated time to time about the Deals & Offers. Online shopping discussions are very helpful; because of it you will get to know the review of a product, or a online website etc., these discussions aware you about all the information about your shopping. These forums maintain a good discussion though that a social network of shopping forms, where subscribers and users discuss about it, these forums are also known as "Social Shopping Network".  
Target audience
When you are working the first and foremost step of every businessman is to target the audience, one should understand which the part of products you are offering is and what kind of customers to attract. And when you will get to know the exact part which you need to offer it will be easy for you to serve your to the specific audience.
You can start some blogs or something to get in touch with your customers, to make their trust on your company that how you handle your customers what kind of products you are offering and many more.
Common Mistakes of the E-commerce Companies
In this Competitive Market where social media plays a great role to make future of any website, person or company on the same hand social media is responsible to break someone's future too.
You need to be active on the site for instance if you are using Facebook and you are posting once in a while a post then don't expect people to get in touch with you.
Increasing your followers doesn't matter you need to focus on the people who are interested in your product.
You should not be Self Obsessive; you need to know the competition present in the same market.
Sharing a post doesn't give you revenue because only 12 % of total social media users buy products.
If the techniques are available then doing all the things manually will spoil everything.
Every platform required different kind of content, don't paste the same content everywhere.
Merchant should display the image of a product from all angles that would be advantageous for him. But some provide the images in the competition as exactly the other competitor have put. Now-a-days shoppers are smart and merchants have to be attentive in it because shoppers have options these days.
Proper information about the company, about the products and customer assistance should be written clear and user friendly language.
Vital Role of Social Media in E-commerce
Follow Us on Google +
Comments
comments