Reliance Jio cashback offer has surprised us all and made a comeback just a few hours after another such offer came to its conclusion on the 25th of December. This time, the new cashback offer has more benefits than ever. The New Reliance Jio cashback offer presents customers with cashback worth up to rupees 3,300, that is roughly 27 percent higher than those offered by the just-concluded Triple cashback offer.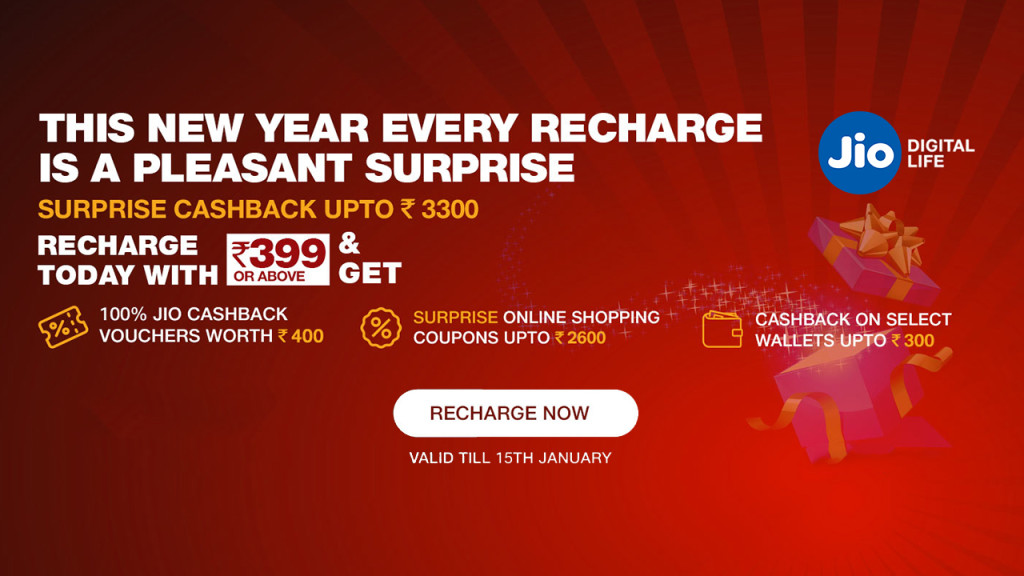 Who is the offer available for and benefits are in what form
The New cashback offer is valid only for Prime users and the benefits provided will be in the form of recharge vouchers, wallet cashback, and many online discounts from the likes of OYO, Grofers, Yatra, Paytm mall and many others. The new Jio cashback offer started on Tuesday the 26th of December and will continue until the 15th of January.
Jio Cashbacks on mobile wallets, Paytm, Amazon Pay etc.
Those prime users who will subscribe to the "Jio Surprise offer", that recharges their account with rupees 399 or more from the MyJio app or the Jio.com website will get rupees 400 cashback in the form of eight vouchers of rupees 50 each. When you purchase future recharge packs, these vouchers can be used to get a discount of rupees 50 from the final amount of the recharge. Not only this, in addition to these vouchers, Reliance Jio will be offering instant cashback of up to rupees 300 on every recharge done via its partner wallets that include, Mobikwik, Amazon Pay, Paytm, PhonePe, Axis Pay and Freecharge. This for example means, that if you are a part of the Jio network and are a prime user and you used the Amazon Pay wallet to recharge your phone by a pack of rupees 459, you will receive vouchers worth rupees 400 from Jio and 99 cashback from Amazon Pay, which amounts to a total of rupees 499.
Other Benefits of the

"Jio Surprise offer"
Cashbacks are not only the main benefits of the offer. Subscribers can also avail benefits like winning e-commerce vouchers of up to rupees 2600. You can also get a discount of 20 percent on Zoom car that can amount up to rupees 1000. A 30 percent discount can be availed on OYO hotel bookings and a 50 percent cash back on OYO money that can amount up to 15,000 rupees. Shoppers who like to shop on Paytm mall are entitled to get rupees 2000 cashback on shopping for rupees 10,000. Reliance Jio Prime subscribers are also presented with the opportunity to get a flat rupees 300 cashback on Grofers for orders of rupees 1500 and rupees 1000 off on roundtrip and rupees 500 off on one-way domestic flight bookings are done via Yatra. All the partner e-commerce offers are available to all Jio prime subscribers who recharge with the Surprise offer, and all these offers are valid until the 31st of March, 2018. This comes across a massive offer after Jio expanded its data pack portfolio by launching the rupees 199 pack and rupees 299 pack.
Jio Surprise Offer for Prime users Offering Cashback Worth up to Rs. 3,300
Follow Us on Google +
Comments
comments