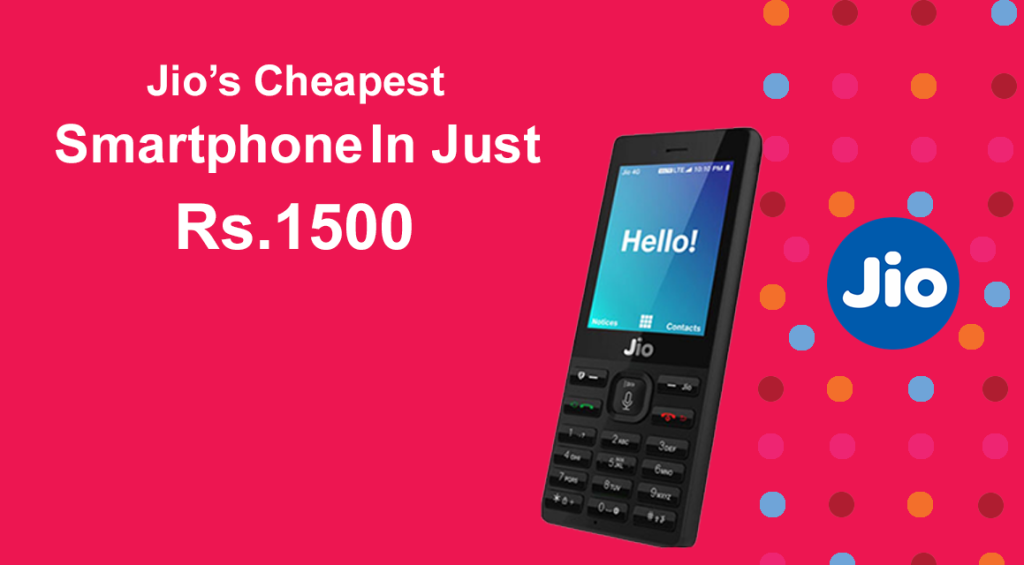 The latest Reliance Jio Phone.
At the Reliance Jio AGM Meeting on Friday, Reliance offered something completely different. It has launched a feature 4g phone for the common people, of which we have only heard rumours until now.The handset has been labelled as "India ka Smartphone". Launched at a prince of zero rupees, one will have to pay 1500, which he shall be returned after using the phone for a 3-year duration. It shall only be a deposit amount.
So why this new Reliance Jio 4G LTE phone?
Because of Reliance Jio's only 4g network, it has unable to reach the various corners of the country as well as the people in lower rungs. However, this is set to change with this new handset. The new JioPhone will be offering VOLTE technology at a price, unimaginable earlier.What makes the offer most likeable is that after 3 years you can claim back the entire deposit amount.
Best offers on Reliance Jio at just rupees 153
At just rupees 153 per month, Reliance Jio Phoneusers will be able to avail free voice and sms and unlimited data, with 500 mb of high speed data, every day. Along with this will come a bundle of Jio apps that have been well received by the public.
The best features of the Reliance Jio Phone
The Jio Phone Browser, Facebook app, along with the prime minister's Mann kiBaat app are some of the preinstalled apps that will come with this feature phone.NFC support will be added to the phone to ease banking transactions. UPI payment will also be supported. A 2.4-inch display, expandable storage, FM Radio, and a dedicated panic button are the other details that the phone packs.
Mukesh Ambani promises 4G handsets for all
According to MukeshAmbanai, as he said on the meeting, out of the 78 crore Indians who own mobile phones, more than 50 crores are feature phone users, since they do not have the money or the means to get a smartphone. Thus, they are unable to benefit from the latest Reliance Jio offerings and data and voice packs and really low prices. He said that he wants the Jio technology to reach the hands of one and all and this new cell phone was being launched with keeping only that in mind and that data, which is very essential to all, due to the variety of information that we can get on the internet, shall be fast and cheap on these latest Jio Phones.
The best of all under Reliance Jio
Connectivity, Data Affordability and Device Affordability were called the three pillars and he exclaimed that these are the three things that will boost 4G VOLTE usage under Reliance JIO and help bring phones that can access internet to everyone, from small towns to even the smallest of villages, and everyone shall henceforth be connected to the internet.
So go pre book the Jio Phone from 24th August -yes that is the Jio Phone release date, and get yours right now!
Reliance Jio Feature phone: Price, Specification and Online Booking
Follow Us on Google +
Comments
comments