Reliance Jio has been come up with new jio offers for its well settled customers who are seeking the services in the charges near to free. The offer has been named as reliance jio dhan dhana dhan offers and making it more appealing as connecting to IPL Cricket contest going on.

Users who didn't activated the Jio Prime membership in its previous deadline and the monthly recharge of pre decided Rs. 303.Those non prime users can now activate the free jio sim offers for more time.
Jio dhan dhana dhan offers is more likely to summer surprise offer but after facing the Trai ban over that summer offer. Jio made it mandatory to recharge up for Rs.99+Rs.309 or Rs.509 variants recharge one can choose up to. We are here with every detail of Jio Dhan Dhana Dhan offer.
What is Jio DHAN DHANA DHAN Offers of Reliance Jio ?
Reliance Jio Infocom told that after receiving guidelines from TRAI Jio Summer Surprise offer has been taken back from the company and now company has launched Jio Dhan Dhana Dhan Offer for its Prime and new users so that they do not have to suffer from the effect. They can also enjoy the unlimited data and voice benefits for 3 months (84 days), free jio benefits from the company using this offer.
Reliance Jio Prime Dhan Dhana Dhan Offer Plans & Last Date ?
Reliance Jio declared that dhan dhana dhan jio offers is one more chance for its users to get free data, calling and sms services in least price. According to them Users who have not join the membership yet has three plans. The jio dhan dhana dhan last date will be available till 30th April (only guess).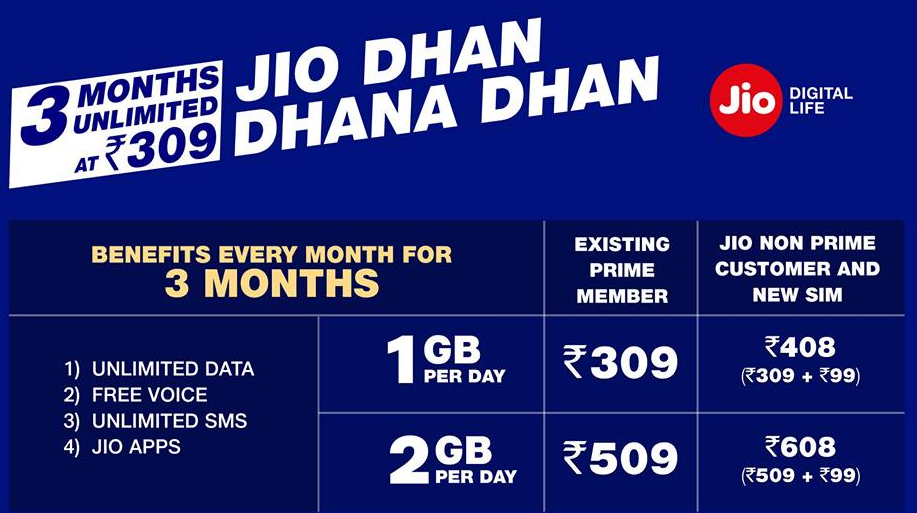 For adopting any Plan Reliance Jio User has to recharge with Rs. 99 and become a Prime member then he can get benefits of these plans.
Rs. 149 Recharge Plan –
In this plan user will get
Data- 2 GB
Unlimited calls-Yes
SMS-300
Validity-28 Days
Rs.309 Recharge Plan –
In this plan user will be entitle to get
Data-1 GB per day
Unlimited Calls-Yes
SMS-Unlimited
Validity-84 Days
Rs. 509 Recharge Plan –
In this plan user will get benefits
Data-2GB per day
Unlimited calls-Yes
SMS-Yes
Validity-84 Days
So you can go for any plan you will surely get free calls service but if you are looking for data you should go for Rs. 99+Rs.309 or Rs. 509 any plan according to requirement as Jio Prime member Offers.
How to Get Reliance Jio Dhan Dhana Dhan Offer?
If you are also convinced and ready to take jio services as Reliance Jio announces new Dhan Dhana Dhan offerfor 3 months that too in very cheaper price. Don't get late and recharge it fast using this process.
1. Click on this link – Here
2. Visit at Plans in left corner upper side of the website
3. Choose your offer Rs. 149/Rs.309/Rs.509
4. Enter Your Jio Number
5. Choose the plan at the time of recharge
6. Rs. 99 would be added as prime membership
7."Pay Now" and Wait for confirmation message and mail from Jio.
Enjoy IPL Contest 2017 with Jio Dhan Dhana Dhan Offer
Latest Reliance Jio News is jio dhan dhana dhan offer is on IPL theme and We are here again with an Exciting IPL Cricket Contest "MyTokri IPL Cricket Mania 2017" where your passion and love towards cricket will surely go beyond the stadium.

To make create the atmosphere for cheering out for we are all set to cheer for you in this IPL Cricket 2017 Contest. More you will know by playing the game and winning unlimited prizes with lots of fun together.
Play Now – //www.mytokri.com/mytokri-ipl-cricket-mania-2017-ipl-cricket-contest.120797/
For more Update on recharge benefits to Jio customers & jio recharge offers and deals always visit mytokri.com.
Jio Mobikwik Recharge offer – Activate now!
Jio Dhan Dhana Dhan Offer: Here's What you can Get Best
Follow Us on Google +
Comments
comments