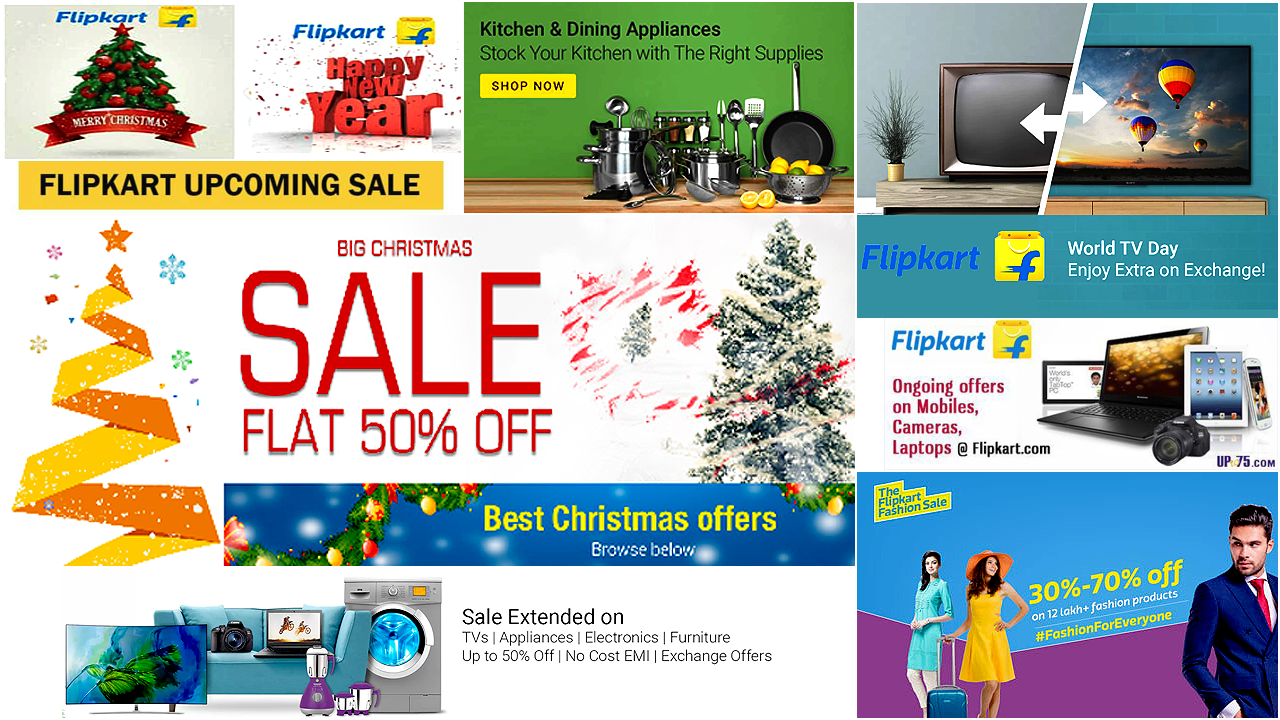 It is that time of the year that all the e-commerce sites come together and host winter sales, Christmas sale, and New-Year sales. Flipkart is one of the top two e-commerce sites in India. It offers great value for money products to its customers and its sales offer the shoppers a chance to buy their favorite products for a price that is a lot cheaper than what they would get in the market. Let's take a quick look at all of Flipkart's upcoming offers as a part of Flipkart sale–
Flipkart Upcoming Sale on World TV Day: Extra 10% Cashback with Citibank Credit/Debit Card On TVs
Flipkart is hosting the World TV day sale on the 21st of November and it is offering some crazy discounts on the exchange. The sale is offering a minimum 1000 rupees off on your CRT TV. It is also offering a flat rupees 550 off on a TV that is defective or non-functional. The crazy exchange offer is willing to give customers an exchange price of up to rupees 27,000. Shoppers who wish to pay with Citibank credit and debit cards will have the chance to avail a 10 percent extra discount on Television purchases. You can also get a Tata Sky HD connection at rupees 1,149 if you decide to buy a Tata sky set top box during the time of the sale.
Flipkart's New Year Sale on Laptops and Mobiles, Electronics and Electronic Accessories
As a part of Flipkart's New Year sale, it is offering mouth-watering deals and discounts on laptops, mobile phones, mobile phone accessories, electronic gadgets, and other electronic accessories. It is offering up to Rs.10000 off on laptops and other electronics. Gadgets and other mobile accessories can be bought at a discount of 70 percent on the price of the product.  The Redmi Note 4 Offer is also part of this sale and a Flat Rs.1000 off is being offered on the purchase of the Redmi Note 4 Series smartphones.  Sale of New Year Gifts by Flipkart will offer its customers a chance to avail up to 70% OFF On New Year Diaries, Smart Watches & Bands. In addition to that discounts will also be offered on Chocolate Gift Hamper & Perfumes.
Flipkart's Christmas Sale offers and deals
Flipkart is offering a super saver offer on Christmas Gifts as it is willing to offer to the shoppers up to 60% off On Christmas Trees, Swags & Wreaths & Chocolate Gift Hampers. The Christmas Sale will be offering some lucrative discounts on smartphone purchases and smartphone accessories.  The Christmas Sale by Flipkart will offer up to 60% off on Mobile Phones and other electronic goods and accessories.  As a part of the winter sale, Flipkart will also offer up to 75% Off On Books & Stationary Products.
Flipkart Fashion Sale
Flipkart from time to time holds Flipkart fashion sale in which it offers its customers a chance to buy their favorite apparels and clothing from the top brands across various segments of apparels ranging from ethnic to western wear to party wear and formals. The Flipkart fashion sale will offer a Flat 50-80% Off On Fashion & Lifestyle Products. This will include discounts on winter wear for both male and female shoppers. Along with this heavy discount on shoes and other clothing accessories will also be offered during the period of the Flipkart fashion sale.
Flipkart Sale of Home and Furniture and Kitchen Appliances
Flipkart sale on home décor and furniture is offering some of the latest furniture with impeccable and astonishing designs at prices that are no match when compared to the quality of the product that they are willing to offer. You can buy home décor and all kinds of furniture at discount starting from 40 percent to going as high as 80 percent on some select home and furniture. In addition to this, modular kitchen appliances that suit the modern day kitchen designs are being sold as a part of the sale at slashed down prices. All types of kitchen appliances like ovens, chimneys, electric kettles, toast makers etc. are being sold at prices slashed down to a low a 60 percent of their marked price.
A Quick Look at All of Flipkart's Upcoming Sale and What it Offers
Follow Us on Google +
Comments
comments