The New Year is upon us and with it comes the chance to shop with Flipkart's 2018 Sale. Flipkart will tempt you with their upcoming sales, deals, offers, dates, and coupons. This year, the sale offered by Flipkart is going to be bigger than ever with a wide range of products across varying segments to be let out on sale. This Flipkart Big Winter Sale will be offering up to 80 percent off on major brands and categories. The products and items on sale will be from the latest and the biggest brands. From fashion wear to recreational products like television, smartphones, gaming consoles to products for kids and women. The women section of shoppers will be amazed at the number of different products that they can shop for, from the latest jewelry to makeup kits to the most recent styles of fashion wear and accessories.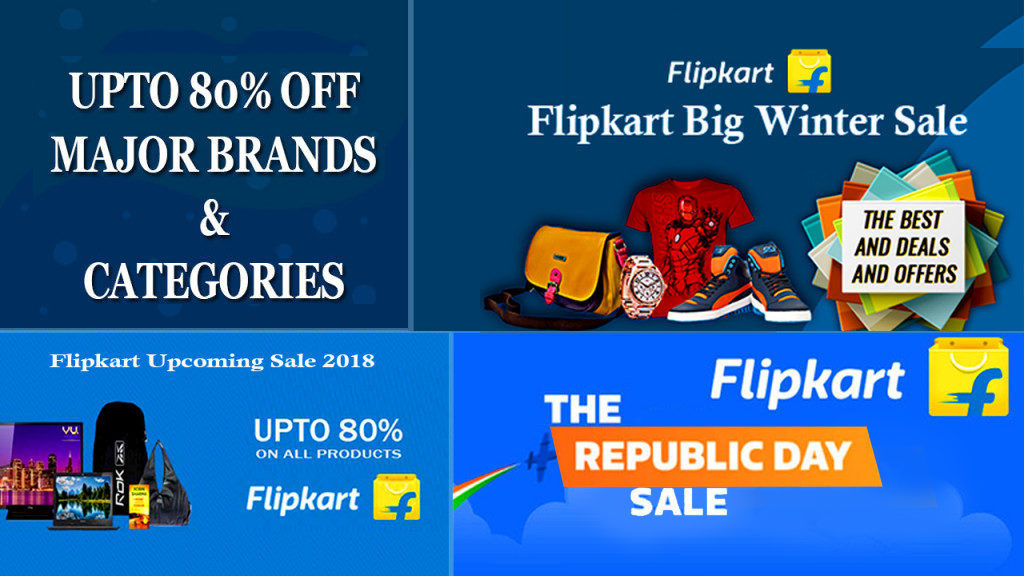 Electronics sale will be defined in a new way through these sales with excellent offers and deals on Air-Conditioners, Refrigerators, Washing Machines, smart watches, smart devices and much more. The sale offers you to get into the groove and grab all the coolest trends before the winter season ends.
Flipkart Big Winter Sale
This winter gear up to get your hands on the best of products from a series of fashion accessories and fashion wear. Those gadget buffs who like to spend their day fiddling along with the latest gadgets and electronics will also get a chance to purchase their favorite gadgets and electronic devices at prices that are highly slashed. Stand a chance to get an extra cashback of 10 percent on all your purchases during the Flipkart Big Winter sale. Extra benefits can also be availed if the payment is done via credit and debit cards or net banking.
Flipkart New Year Sale
Flipkart welcomes 2018 with the Flipkart New year sale. Products will be put up for sale at up to 80 percent discount so you can indulge in a shopping frenzy. The sale will last until the 5th of January so don't wait and get on the Flipkart app or website and shop for your coveted items from a series of excellent choices of products across various segments. The Flipkart New Year sale is the best time to buy smartphones as exciting exchange offers and discount offers of up to 60 percent on the latest smartphones and smartphone accessories. Along with this up to 50 percent discount is being offered on television sets, and large appliances as well as kitchen appliances as a part of the sale. An extra 10 percent cash back is also available on payments made via credit and debit cards and net banking payments.
Flipkart Republic Day Sale 2018
The next biggest sale that Flipkart is going to host after the Flipkart Big Billion Day sale is the Flipkart Republic Day sale 2018. The Republic Day sale 2018 is going to offer to the customers a parade of products. The Republic Day sale will take place from the 21st of January 2018 to the 26th of January 2018. You can choose to align your patriotic feelings with your urge to shop for yourself or even gift to your loved ones. Massive discounts will be offered on fashion accessories and fashion products. Fashion savvy customers can get up to 80 percent off on clothing items and accessories. In addition to this, a minimum of 50 percent discount is being offered on best-selling furniture, kitchen appliances. For those who are looking to get a complete makeover of their house, the sale on home and décor will enable you to save a lot on the way to shopping for the revamp of your living place.
Flipkart Upcoming Sale 2018, Offers up to 80% Off On Major Brands & Categories
Follow Us on Google +
Comments
comments