"Hola" is the word in which Holi has been derived from which means to offer prayers to the Gods for good harvest.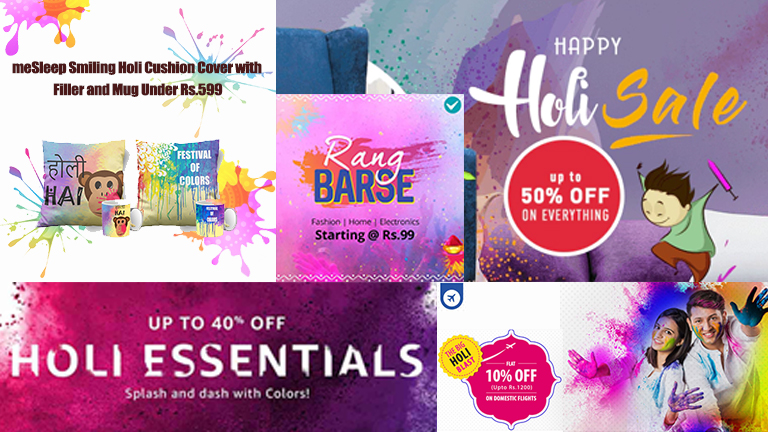 The word Holi has many legends attached to it and has a lot of significance.For those of you who might be wondering when is Holi in 2018, it is on the Thursday, March 1 and Friday, March 2. Holi offers a chance for people to come together and celebrate the festival of colors with happiness and fervor.
The Legend of Holi :-
Holi is nationally and internationally regarded as the festival of colors and is one of the most anticipated festivals of India. All families and friends celebrate the festival in unison and gusto all round in India and the world too. The question "when is holi celebrated, is answered by legend as the day according to the BikramSambat Hindu calendar, on the day of the full moon (Purnima), in the month of Falgun. It is generally celebrated for two consecutive days, with the second day being most celebrated.
The significance of Holi :- 
Holi is a festival of fun and colors but with it is attached a lot of significance. The festivalHolimarks the victory of good over evil. It also marks the start of spring and the end of winter and is also a celebratory festival as a sign of thanksgiving to the Gods for goo harvest. People during the festival of Holi go out and shop for their Holi attire and also to commemorate the beginning of spring. Holi offers 2018 sees various e-commerce sites coming together and giving out exciting deals and offers on various products ranging from clothing, electronics and gadgets and much more. You can avail these offers and get an extra discount on your favorite products by using Holi Discount Coupons and Holi Promo codes.
Which is the best place to celebrate Holi festival :-
Holi festival in India in 2018 will be widely celebrated in a number of places. Some of these places would need Holi festival 2018 festival tickets to get a chance to experience the wonders of the festival. There shall also be a Holi sale 2018 on hotel room bookings where you can book cheap hotel and flight tickets by using Holi coupons at the time of payment. The few places that celebrate Holi traditionally in India are
• Mathura and Vrindavan: Traditional Holi
• Shantiniketan, West Bengal: Cultural Holi
• Purulia, West Bengal: Folk Holi
• Anandpur Sahib, Punjab: Warrior Holi
• Udaipur: Royal Holi
• Mumbai: Community Holi with Slum Children
• Delhi: Musical Holi
• Jaipur: Holi and Elephants
• Hampi: Holi in South India
What are the colors used in Holi made of :-
Many Holi colors made these days are usually made of chemicals that can harm our skin. But if one buys colors from well-known and reputed shops the colors they make are organic in nature and not harmful to the skin at all. These are handmade produced powders that are fully loaded with natural values unlike the harsh chemical colors that can cause grave effects on the eye and skin. These colors also known as "gulal" are made from flower petals and hena leaves, spinach and coriander leaves. The Red color is made with rose petals along with dried beetroot or hibiscus. The blue color can be made by grinding blue hibiscus flowers. The amazing view when Holi color powders are flung into the air is indescribable and brings sheer joy to the people celebrating the festival of colors.
Everything You Need To know About The Festival Of Colors- Holi!
Follow Us on Google +
Comments
comments