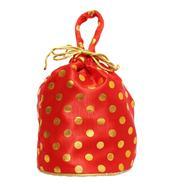 Bagaholics Ethnic Clutch Silk Potli Batwa Pouch Bag with Metal Beadwork
About Product :-
Potli Bag is a Ethnic Stylish Clutch, kind of Indian Handbag, Potli bag looks very nice with any traditional dresses, also goes well with any Casual Indian Dresses.
Potli Bag Size: 16 x 2 x 21 (cm). Product Care : Gentle Hand Wash
Spacious Compartment that can easily carry today's big smartphones,mobiles and other valuables things.
Stylish Shoulder strap of 16 cm drop down length with drawstrings closure.
Bagaholics Potli bag are designed for any evening party or casual occasions at any time of the day. Marriage ceremonies to all kind of wedding parties.
More offers from Amazon India