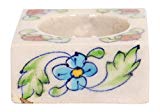 Aditya Blue Art Pottery Ceramic Unique Decorative Candle Holder (5.08 cm x 5 cm x 5.08 cm)
About Product :-
·Craft Type: Blue Pottery
Craft Specialty: Blue Pottery is widely recognized as a traditional craft of Jaipur. Our product has been handcrafted by skilled artisans. The visible brush strokes and neat free-hand curves are the artistic expressions of our craftsmen, which cannot be reproduced in digital print.
Material: Ceramic; Finish: Hand Painted
Color: Multi
Product Dimensions: 5.08 cm x 5 cm x 5.08 cm
Color shades, pattern and polish may vary slightly around the surface, since the painting is done free-style
Care Instructions: This item is fragile. Clean the surface regularly with soft dry cloth. In case dust has accumulated over the surface, gently rub some ordinary oil with a soft cloth to restore the shine on the surface. Keep away from reach of children. Do not use sharp objects on the surface.
More offers from Amazon India